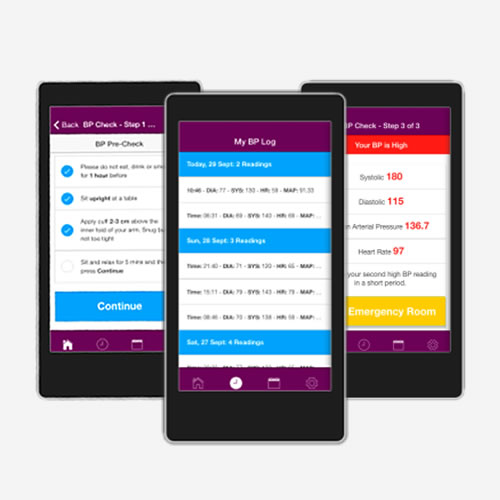 Project Description
'LEANBH' is a pilot research project providing remote healthcare monitoring to expectant mothers to improve the detection and treatment of hypertension during pregnancy. The goal of the Leanbh project is to develop and validate a cloud based platform that collects, analyses and presents home based blood pressure and urine measurement data and associated risk factors to improve the management and treatment of hypertension throughout pregnancy. Hypertensive disorders of pregnancy are a leading cause of maternal and perinatal morbidity and mortality. More continuous monitoring of blood pressure (BP), urine, and symptoms throughout pregnancy via home based monitoring devices combined with advanced decision support algorithms could help identify women at risk and improve the health outcomes of the mother and fetus.
Since the project commenced in June 2015 the HISRC have been engaged in the delivery of several research outputs, namely; (1) the development of the Leanbh Mother's App, (2) development of the Leanbh Health Record, and (3) publications.
Leanbh Mother's App
The HISRC has developed a smartphone app to remotely monitor the blood pressure (BP), urine analysis readings, and associated symptoms of expectant mothers. The readings will be generated using home monitoring devices (i.e. BP cuff and urinalysis device) and then captured by the smartphone app via Bluetooth. The expectant mother's data will subsequently uploaded from the smartphone app to the Leanbh Health Record (see 4.8.2) via Wi-Fi or 3G. The Mother's App will also provide for the integration of medical alerts which will help identify potential gestational hypertension and pre-eclampsia. This will help to notify the relevant healthcare provider (GP, Midwife, and Obstetrician). If high readings and/or relevant risk factors are confirmed then they are recommended for a hospital visit. A notification mechanism will also be included to remind and encourage pregnant women to take regular BP and urine readings through their mobile phone.
Leanbh Health Record
The HISRC has developed an electronic health record called the Leanbh Health Record (LHR) which will enable clinicians to input the data of expectant mothers participating in the Leanbh clinical study. The LHR also offers patient centric dashboards i.e. a personalised display of the patient's history and recent data entries. This dashboard will provide access to all data entries related to this patient e.g. BP readings, to assist the clinical research team in monitoring participants in the clinical study. The systems architecture will be the foundation for a more complete (more than just hypertension) electronic-Maternity Healthcare Record for expectant mothers which to date is non-existent internationally and would propel Leanbh beyond the current state of the art. This work would help generate an international first in the Maternity Healthcare Records domain.